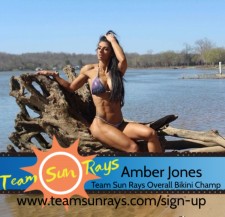 News
•
updated: Mar 19, 2018
It's another 1st place win for the online team created by Savannah Crayon.
Team Sun Rays is an online fitness team that helps anyone, anywhere get into the best shape of their lives. On Saturday, March 17, 2018, Team Sun Rays Elite Athlete, Amber Jones won 1st place in her category in NPC Bikini Bodybuilding at the Nitros Indiana Muscle and Fitness Expo. This was her 3rd first-place win! Coached by Savannah Crayon, Team Sun Ray's mission is to be more than just another fitness team, Crayon states "Our goal is to inspire others and change lives through fitness".
This team is so dedicated to changing lives that they even donate a percentage of all their online shop sales to nonprofits.
With another win under their belts they plan on focusing on more wins this May.
Online Fitness Programs sign up: https://sunhirebiz.com/sign-up
Sun Hire is the premier residential and corporate wellness provider for large corporations and luxury communities. The company's mission is to create sustainable lifestyles by bringing gym, spa and nutrition services to life through our excellence in Amenity Activation℠. The company's proven management system focuses on engaging community residents and employees of corporations in wellness activities. The company was founded by Savannah Crayon, IFBB Professional Athlete, NASM-Certified Personal Trainer, Nutritional Therapist and entrepreneur. Her passion for creating healthy lifestyles drives Sun Hire's culture.
For more information on our wellness programs encompassing fitness, salon, spa and catering services for corporate and residential locations email: getfit@sunhirewellness.com - Call: 954-657-8945
​Socail Media:
https://instagram.com/savannahcrayon
https://instagram.com/sunhirewellness
https://instagram.com/teamsunrays
Share: